Why Should You Consider Pavers for Your Driveway?
---
---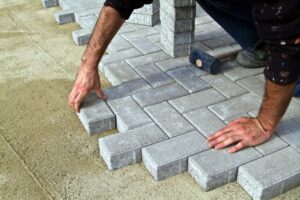 Because your driveway is necessary for storing your car, you should keep it sturdy and durable. And because your home should be beautiful, your driveway should be beautiful to help things look as great as possible.
And to get the most beautiful and most durable driveway, have it constructed with pavers!
Beautiful and durable, pavers are one of the best options for keeping your driveway in the best and most attractive condition thanks to their top-notch benefits:
They Won't Crack
For most of the day, your vehicle's great weight bears down on the driveway underneath, causing cracks over time. And these cracks could send up jagged pieces of stone that can result in a popped tire.
Pavers, though, are durable and won't crack under pressure — literally. So, with pavers, you can avoid popped tires and expensive driveway repairs. Your driveway should be sturdy and safe, and with pavers, it will be just as sturdy and as safe as can be!
They Are Easy To Replace
As durable as pavers are, they are not immune to damage. This means that, in time, you might wind up with broken, unsightly pavers that simply have to go.
And when it's time for them to go, the job will be easy. With a concrete driveway, a break requires that an entire section be replaced, but with pavers, you can simply replace individual parts. Quick, easy, affordable: What's not to love?
They Are Beautiful
Functionality is only half of what you should look for in your home. You should also look for beauty since you'll spend so much of your time in your home. (And who wants to spend their time in an unsightly home?)
With a driveway constructed of pavers, you can enjoy the most beautiful home possible. This beauty will benefit you every day as you enjoy looking at a stunning home, and it will pay off when it comes time to sell thanks to the increased curb appeal and property value that a paver driveway can provide.
Get Your Paver Driveway Installed By An Experienced Mason Contractor
Your driveway should be beautiful and sturdy, and with pavers, you can enjoy the most beautiful and sturdiest driveway possible. If you are interested in a paver driveway, call the experienced masonry contractors at American Masonry Service to handle the work.
With our many years in the business and our dedication to quality work, we at American Masonry Service can provide your home with a high-quality paver driveway at a great price!
If you are interested in more information about Driveways from our masonry contractors, please call American Masonry Service at 201-358-2828 or complete our online request form.