New Jersey Patio Builder & Contractor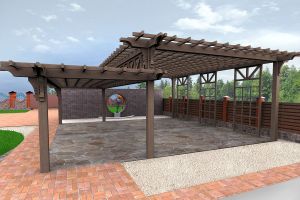 If you like entertaining outdoors during the warmer months, you'll love a patio. A patio provides a beautiful place to enjoy drinks and food outside when the weather warms, helping you to enjoy those months in style.
If you want to get a patio installed in your backyard, call American Masonry Service to handle the job. With our experience and dedication to quality work, we can provide a beautiful, sturdy patio so that you can enjoy springtime to the fullest!
Increased Property Value
With a patio, you'll enjoy the immediate benefit of having a great place to spend time with your friends and family. But a patio will provide one final benefit should you ever decide to sell your home: a higher price tag.
This price tag comes from the value that a patio can bring your home, and this value comes from a patio's beauty and durability. So, of course, the more beautiful and more durable a patio is, the more value you can enjoy.
And with patio work from the experienced and knowledgeable experts at American Masonry Service, you can enjoy the most beautiful and most durable patio and, thus, the highest property value possible!
Quality Relaxation
At the end of a long, busy day, nothing beats quality relaxation time, and with a patio, you can enjoy the best relaxation right in your own backyard.
When you're done with another long, stressful day, you can just step outside onto your patio with your favorite drink and unwind. No traffic to sit in or any headache like that — just paradise in your own home. Higher property value might be compelling, but your increased quality of life will be a patio's biggest draw.
If you want a quality patio that will help you enjoy the best relaxation right in your backyard, call the masonry contractors at American Masonry Service. We'll install a beautiful, durable patio in your backyard for a great price in no time flat!
If you want a new patio for your New Jersey property, then give us a call at 201-358-2828 or complete our online request form.
Latest Articles
3 Signs It's Time To Replace Your Concrete Driveway


While the average expected lifespan of a concrete driveway is roughly around 30 years, there are a number of different factors that can affect that number, and as such, the lifespan of your concrete driveway could vary somewhat significantly. Since the length of time that your concrete driveway remains intact can vary quite significantly from […]

Read More
Brick Pointing Can Be a Blessing for Your New Jersey Home


A home constructed of brick can be stunning and very valuable, but only if its brickwork is in good condition. Unfortunately, like any building material, bricks can become worn and damaged over time. When that happens to your bricks, you could lose the great benefits that they can otherwise bring. Fortunately, however, you don't have […]

Read More