Your Local Ridgewood Masonry Company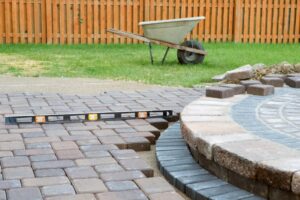 In the winter, your heating bills can be expensive, but you can avoid this expense while still keeping warm thanks to a fireplace. This economical option will keep you and your bank account happy and comfortable while also helping to decrease your pollution output.
Should your fireplace suffer damages, don't fret thinking that you can't enjoy its money-saving benefits anymore. Instead, call American Masonry Service, and with our fireplace repairs, we'll help you enjoy the most economical heat there is once more.
Call For Thorough Fireplace Repairs In Ridgewood
Fireplaces are not immune to damages that can develop over the years because of mortar damage and masonry wear. But no matter what has caused your fireplace to sustain damage, you can rely on us to get it fixed. With our quick yet dependable fireplace repairs, we'll get your fireplace working like new again in little time at all.
Ridgewood's Premiere Chimney Repair Service
Once chimney damages develop, your chimney might become incapable of channeling smoke out of your home. If chimney damage is smoking you out of your home, call us for a chimney repair. No matter the cause or extent of that wear, we'll get your chimney looking and working as good as new in no time flat.
Ridgewood's Experienced Masonry Contractor
Here in Ridgewood, you can spend some quality outdoor time with your family thanks to Graydon Park, Citizen's Park, and the Ridgewood Wild Duck Pond. And when you decide to spend some quality indoor time with your bunch, Ridgewood still has the resources to help make that time the best time of your life: American Masonry Service and our quality services.
If you need a professional masonry contractor in Ridgewood, then please call American Masonry Service at (201) 358-2828 or complete our online request form.
Latest Articles
3 Signs It's Time To Replace Your Concrete Driveway


While the average expected lifespan of a concrete driveway is roughly around 30 years, there are a number of different factors that can affect that number, and as such, the lifespan of your concrete driveway could vary somewhat significantly. Since the length of time that your concrete driveway remains intact can vary quite significantly from […]

Read More
Brick Pointing Can Be a Blessing for Your New Jersey Home


A home constructed of brick can be stunning and very valuable, but only if its brickwork is in good condition. Unfortunately, like any building material, bricks can become worn and damaged over time. When that happens to your bricks, you could lose the great benefits that they can otherwise bring. Fortunately, however, you don't have […]

Read More