From Fireplace Construction to Chimney Repairs We Keep You Warm!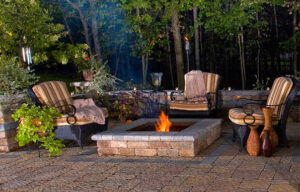 One of the most economical ways to keep warm is a roaring fire. Providing heat even when a snowstorm has knocked the power out, a fireplace will be your best friend as you get through even the harshest winter.
Like anything, though, your fireplace and its chimney can develop problems through the years, such as worn mortar. Luckily, if your fireplace is suffering this kind of wear, you don't have to go through the winter without it.
After all, you can always call the masonry contractors at American Masonry Service! We'll get your chimneys and fireplaces fixed so that you don't have to go through the winter without a reliable fireplace.
Avoid Moisture Damage
Mortar has a lifespan of about 25 years, and once it reaches that lifespan, it will begin to deteriorate. As mortar deteriorates, your chimney won't be able to keep out rain and other moisture that comes near it.
A chimney that fails to remain waterproofed can lead to some serious problems within your home:
Mold growth
Weakening of structural supports
Compromised chimney
Deterioration of your paint and wallpaper
These issues can develop into other costly problems within your home, but you can avoid these problems by calling the masonry contractors at American Masonry Service to get your chimney's old mortar replaced with solid new mortar.
Stay Warm And Safe
With chimney work from us, you can keep your home as safe, dry, and warm as you could please throughout many winters to come.
And if infants or elders live with you, maintaining a warm home will be more than just a matter of comfort. It will also be a matter of safety for people in those age ranges who are susceptible cold temperatures.
If your chimney isn't able to function its best and keep your loved ones protected from the cold, call American Masonry Service. With our chimney and fireplace work, we'll get your fireplace working right in no time at all!
If you need reliable New Jersey Fireplace Constructions or Chimney Repair Services, then call us at 201-358-2828 or complete our online request form.
Latest Articles
3 Signs It's Time To Replace Your Concrete Driveway


While the average expected lifespan of a concrete driveway is roughly around 30 years, there are a number of different factors that can affect that number, and as such, the lifespan of your concrete driveway could vary somewhat significantly. Since the length of time that your concrete driveway remains intact can vary quite significantly from […]

Read More
Brick Pointing Can Be a Blessing for Your New Jersey Home


A home constructed of brick can be stunning and very valuable, but only if its brickwork is in good condition. Unfortunately, like any building material, bricks can become worn and damaged over time. When that happens to your bricks, you could lose the great benefits that they can otherwise bring. Fortunately, however, you don't have […]

Read More