The Top Hackensack Masonry Company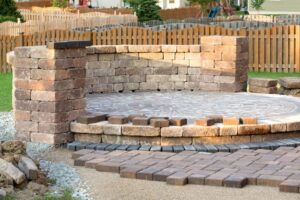 Your chimney is an efficient and economical way to keep warm. Of course, like anything, your chimney can suffer from wear and breakages, including cracks in the masonry and decay in the mortar. And in this kind of condition, your fireplace would be inefficient and unsafe.
If your fireplace is in that kind of condition, call the experienced contractors at American Masonry Service. With our fireplace repair service, we'll get your fireplace working safely and reliably once more so you can enjoy the unparalleled warmth it can provide.
Preserve Your Fireplace With A Fireplace Repair In Hackensack
Through the years, your fireplace can suffer from cracks, worn mortar, and other issues that render you unable to use it. If your fireplace has been rendered useless, call us today. With a quick, thorough fireplace repair, we'll get your fireplace back in a safe, usable condition, keeping warm through many more winters to come!
Keep Safe And Warm With Chimney Repairs For Your Home In Hackensack
Should your chimney suffer damages, you could face the prospect of suffering smoke inhalation when you start a fire. If your chimney has suffered cracks, worn mortar, or loosened brick, give us a call. We'll get your chimney fixed with our chimney repair service, helping you to enjoy the safest and most reliable heating once more.
Hackensack's Experienced Masonry Contractor
With its Bergen Arts and Science Charter School as well as its bevy of great public and private schools, Hackensack offers your brood many opportunities to get a quality education. And with its local masonry contractors at American Masonry Service, Hackensack also offers a great resource for maintaining the best home in the area!
If you need a professional masonry contractor in Hackensack, then please call American Masonry Service at (201) 358-2828 or complete our online request form.
Latest Articles
3 Signs It's Time To Replace Your Concrete Driveway


While the average expected lifespan of a concrete driveway is roughly around 30 years, there are a number of different factors that can affect that number, and as such, the lifespan of your concrete driveway could vary somewhat significantly. Since the length of time that your concrete driveway remains intact can vary quite significantly from […]

Read More
Brick Pointing Can Be a Blessing for Your New Jersey Home


A home constructed of brick can be stunning and very valuable, but only if its brickwork is in good condition. Unfortunately, like any building material, bricks can become worn and damaged over time. When that happens to your bricks, you could lose the great benefits that they can otherwise bring. Fortunately, however, you don't have […]

Read More