Retaining Walls & Brick Walls For Your NJ Home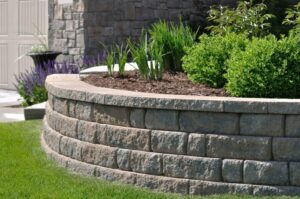 A garden can be a great addition to your home. With a garden, you can stop focusing on the stressors of your everyday life and instead focus on planting and tilling and the like.
To begin, you need to set up your garden to help it blossom and grow in the healthiest way possible, and one of the best installations you can get to do that is a retaining wall. A retaining wall holds soil, allowing you to create a beautiful garden on a level surface in any kind of terrain.
If you want a retaining wall so that you can enjoy a quality garden and all the relaxing benefits one can offer, call us at American Masonry Service. We have the skills and experience to provide you with a high-quality retaining wall at a great price.
Get Different Levels In Your Garden
Not all kinds of plants and vegetables can grow side by side, so for your garden to bloom and flourish, you might need to keep some kinds of plants separated. But doing so can be difficult if your garden is tight on space. Fortunately, you can make that space with a retaining wall!
One great feature that retaining walls offer is that they can support soil laterally, providing different levels to your garden. So, you can keep your plants separate and healthy when needed, no matter how tight on space your garden might be!
Brick Walls For Purposes Other Than Gardening
Even if you don't like gardening, you can still enjoy a quality brick wall from American Masonry Service. After all, there are some great ways to use a brick wall outside of your garden:
For a barbecue pit
For a fence
For water retention
On top of all those great uses, a brick wall looks great and can add value to your home since brick is a valuable and long-lasting material!
If you want to get a brick wall or retaining wall for your home, call us at American Masonry Service. Our experienced masonry contractors will work to provide you with the best brick or retaining wall at a great price!
If you are looking for quality Retaining & Brick Walls for your NJ Home, then please call 201-358-2828 or complete our online request form.
Latest Articles
Unveiling Masonry Makeovers: Enhancing Aesthetics and Functionality


Masonry makeovers offer a transformative solution for revitalizing the appearance and functionality of various structures. From homes to commercial buildings, masonry contractors specialize in upgrading and enhancing the beauty and durability of masonry elements. In this article, we will explore the concept of masonry makeovers, highlighting their benefits and common projects undertaken by masonry contractors. […]

Read More
3 Signs It's Time To Replace Your Concrete Driveway


While the average expected lifespan of a concrete driveway is roughly around 30 years, there are a number of different factors that can affect that number, and as such, the lifespan of your concrete driveway could vary somewhat significantly. Since the length of time that your concrete driveway remains intact can vary quite significantly from […]

Read More