Stairways & Walkways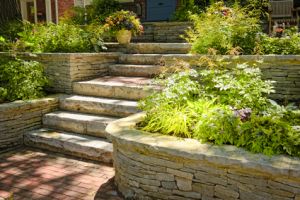 A great way to keep your home safe and functional is with quality stairways and walkways. After all, we have to get about, so shouldn't our means of getting about our property are safe and secure?
It most certainly should. And to allow the safest maneuverability throughout your home, call American Masonry Service to construct and install quality stairways and walkways for your home!
Stairways
With American Masonry Service, you will get the most solidly constructed stairs in your home. No matter how big or small the job is, our team of masonry contractors has the know-how to construct solid dependable stairs in little time.
You need stairs that won't buckle and send you tumbling, and with our solidly constructed stairs, you will get the safest and most dependable stairs for your money!
Walkways
Any home can benefit from walkways. After all, you'll have to traverse the outside of your home for a variety of reasons: to get to and from your car, to handle outside work, to take out the trash, etc.
To handle these outdoor chores in the safest and cleanest manner possible, call the contractors at American Masonry Service to construct those walkways that are sturdy and beautiful.
With a walkway constructed by us, you can enjoy safe and reliable walkways as well as the most beautiful and most valuable home possible. If you want to enjoy high-quality walkways, call American Masonry Service today!
If you need a stairway or walkway constructed for your New Jersey home, then give us a call at 201-358-2828 or complete our online request form.
Latest Articles
3 Signs It's Time To Replace Your Concrete Driveway


While the average expected lifespan of a concrete driveway is roughly around 30 years, there are a number of different factors that can affect that number, and as such, the lifespan of your concrete driveway could vary somewhat significantly. Since the length of time that your concrete driveway remains intact can vary quite significantly from […]

Read More
Brick Pointing Can Be a Blessing for Your New Jersey Home


A home constructed of brick can be stunning and very valuable, but only if its brickwork is in good condition. Unfortunately, like any building material, bricks can become worn and damaged over time. When that happens to your bricks, you could lose the great benefits that they can otherwise bring. Fortunately, however, you don't have […]

Read More