Why Should I Get a Concrete Patio?
---
---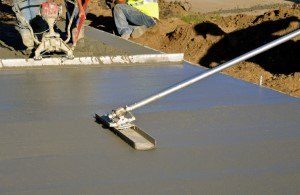 A patio provides a little bit of paradise right in your own backyard, allowing you to simply step out the back door when it's time to unwind from another long day.
To enjoy this relaxation to the fullest, you need to get the best patio possible. And while "best" might be subjective, we say that a concrete patio is right on up there as the best choice for a patio!
Compared to brick and pavers, a concrete patio will provide a variety of great benefits that will make a patio not only beautiful but also durable and long-lasting.
If you are looking to get the best bit of paradise in your backyard, consider having that paradise constructed from concrete. With concrete, your patio can enjoy a variety of great benefits:
Easy Maintenance
Cleaning up is not relaxing, but you have to keep your patio clean to enjoy its relaxing benefits. But some patio materials, such as pavers and brick, are not easy to clean. You've got to get down into them, and the work is hard, and the end results are often spotty.
Concrete, on the other hand, is easy to clean. Since it is one large unit rather than many smaller ones with cracks and crevasses that are difficult to get into, concrete takes little time and effort to clean. Just power wash it, and get back to paradise in no time!
Durability
A patio should be beautiful, but it should also be solid. After all, who could relax while their patio was cracking, crumbling, and breaking around them? Nobody in their right mind!
If you want your patio to be strong and beautiful for years, have it made of concrete! Concrete is durable and long-lasting, and with its crack-resistant design, your concrete patio will look beautiful and new for many years to come!
Variety Of Beautiful Designs
If you're going to get a patio installed in your backyard, you shouldn't settle for one that looks like just any patio. A patio should be your unique slice of paradise, meaning you should get a patio that looks like no other.
And with concrete, your patio can be the only one of its kind in the world. Concrete comes in a variety of stunning natural colors and patterns, so with concrete, you can enjoy a patio that's unique to you and your tastes!
Get Your Concrete Patio Installed By An Experienced Masonry Contractor
If you think that a concrete patio sounds right for you, have yours designed and installed by an experienced masonry contractor. And if you live in New Jersey, that contractor should be American Masonry Service.
We are an experienced, family-owned business that dedicates itself to providing only quality work, so with us, you will get only the best concrete patio for your home!
If you are interested in a professional Patio service from our masonry contractors, please call American Masonry Service at 201-358-2828 or complete our online request form.