American Masonry Service – Wyckoff's Premier Mason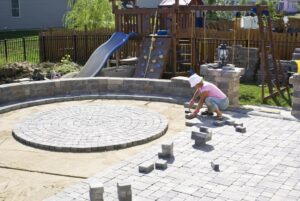 A great way to keep your home looking and functioning great is to maintain a reliable fireplace. A fireplace can add beauty and value to any home while also warming the place without upping your heating bill.
Unfortunately, your fireplace can suffer from damages over the years: worn-out mortar and damaged masonry, primarily. Fortunately, though, if your fireplace has suffered any damages, you can call us at American Masonry Service for a quality fireplace repair!
Keep Your Fireplace In Shape With Our Fireplace Repairs
An economical and environmentally friendly heating solution, a fireplace will keep you and your loved ones safe and warm without eating into your budget. To continue enjoying this economical heating option, call us when your fireplace suffers damages, and we'll get it working again with our chimney repairs.
Maintain A Beautiful, Reliable Chimney With Our Chimney Repairs
Chimneys can also suffer damages that render them unable to be used, making your fireplace itself useless. If your chimney has suffered damages that keep you from using your fireplace, call us for a chimney repair. Whether the damage is due to worn-away mortar, broken masonry, or anything else, we can get the problem resolved in little time.
Enjoy Every Moment In Wyckoff Thanks To Its Quality Transportation And Masonry Services
If you dread dealing with traffic daily, good news: You don't have to thanks to Wyckoff's quality transportation system! And if you like maintaining a beautiful home as much as you like not having to deal with terrible traffic, you'll have another reason to love Wyckoff: American Masonry Service.
If you need a professional masonry contractor in Wyckoff, then please call American Masonry Service at (201) 358-2828 or complete our online request form.
Latest Articles
3 Signs It's Time To Replace Your Concrete Driveway


While the average expected lifespan of a concrete driveway is roughly around 30 years, there are a number of different factors that can affect that number, and as such, the lifespan of your concrete driveway could vary somewhat significantly. Since the length of time that your concrete driveway remains intact can vary quite significantly from […]

Read More
Brick Pointing Can Be a Blessing for Your New Jersey Home


A home constructed of brick can be stunning and very valuable, but only if its brickwork is in good condition. Unfortunately, like any building material, bricks can become worn and damaged over time. When that happens to your bricks, you could lose the great benefits that they can otherwise bring. Fortunately, however, you don't have […]

Read More